Privileged to enjoy a familiar relationship with miners and collectors all over the world, Mineralman has available unique and rare minerals. Many in this collection are well-known and often famous discoveries. For the discriminating collector or individual seeking that unique item, there is a captivating mineral that is ideal. Please email today if there is a particular item you would like to learn more information about.
Vivianite

Conotillo Mine, Potosi, Boliva

An exquisite text book classic Vivianite crystal, deep green and transparent with sharp termination. A choice undamaged crystal with minor matrix attached at the base. Displays excellent in any orientation.

A meager number of undamaged crystals were found, now you can own one of the few, the very few.

A rare find from the Conotillo Mine, Potosi, Boliva

Crystal is 5/8"x 11/16" x 1 3/8".

Item Code: viv1002 $250.00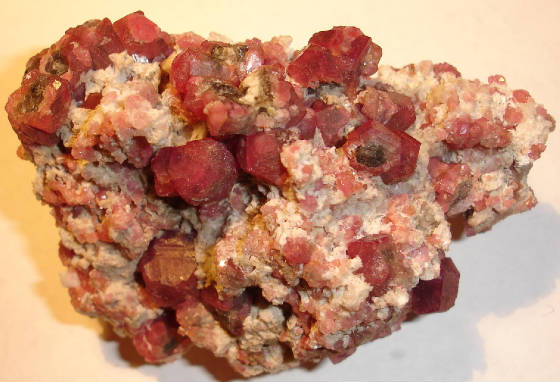 "Raspberry" Garnet
Quality cabinet sized specimens of Grossular Garnet like this have faded from the dealers sales cabinets. High quality specimens such as this are a thing of the past. I acquired two flats from Benny Fenn (co-owner/miner of the deposit) in 1998. In a recent discussion with Mr Fenn, he indicated to me that the deposit is nearly depleted and has become uneconomical to continue. I kept the three best specimens from my original purchase in 1998 for myself and sold the rest in 2001 to a collector/ dealer.
Now, I have decided to part with one of the three "Best of the Best" from my collection. More information and analysis of this unique deposit can be found in the
"Mineralogical Record", volume 34, number 6, Nov-Dec 2003 Special Issue III Mexico.
A limited number of quality size cabinet specimens were ever mined from this deposit. This will be the only one offered for sale. Specimen measures
2 1/2" x 3" x 3 1/2"
From the Sierra De Cruces Ranch, Coahuila, Mexico
Item Code: raspgar01 $500.00
Fluorapophyllite

From the original well find at Momin Akhada, Rahuri, Ahmedngar, Maharashtra, India. Featured in the article, Hot Tips, Cool Crystals:Rare apophyllite crystals come to light in a well, by Brinda Gill, in the March 2003 (VOL.33 NUM.3) issue of "Rock and Gem" magazine. The article highlighted this rare and unusual find. A very fine crystal grouping on a little matrix of Stilbite. Specimen is 1 1/2" x 2" x 2 1/4".

This location yielded a limited number of specimens. Very few if any specimens of this quality are still available on the open market.

Item Code: apop1012 $250.00
Fluorapoplyllite

A true and rare classic! Fluorapophyllite on Stilbite from Momin Akhada, Rahuri, Ahmednagar, Maharashtra, India. This specimen is from the original well find. An article appeared in the March 2003 issue of Rock and Gem describing this unusual and limited find. I acquired a small lot of these remarkable specimens when they first became available in 2003. This specimen is 1 3/16" x 2 3/16' x 2 3/4". Main crystal cluster is 3/4" x 1 3/16" x 1 3/16" and is resting on a snow white matrix of Stilbite crystals. This location yielded a limited number of specimens. Very few if any specimens of this quality are still available on the open market.

Item Code: apop1001 $300.00
This massive specimen is grand! At over 12 inches across and 6 inches high with individual crystals in excess of 3 inches each, this specimen would be the centerpiece of any collection. Additionally, this piece has a very good orange fluorescence under Short-Wave illumination.
Item Code: calcite01 $500.00
FLUORITE

An exceptional large plate of choice FLUORITE crystals. Color zoning in the octahedral crystals is green in the core to a purple at the outer edges of the crystals in stunning contrast to the snow white matrix. Innumberable Fluorite crystals cover this truly remarkable large cabinet specimen. Make space in your mineral display cabinet as this specimen would certainly be the centerpiece!

Largest crystals are up to 1 3/8" across.

2 3/4"( thick) by 7 1/2" by 8 3/4"

From the De' An Mine at Wushan, Jiangxi Province, China.

Item Code: flplate02 $825.00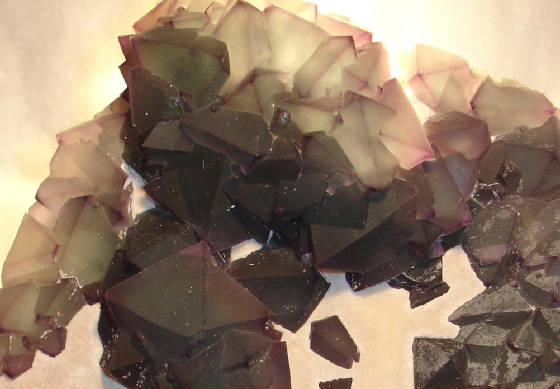 Fluorite Plate close up top view
Fluorite Plate close up right side view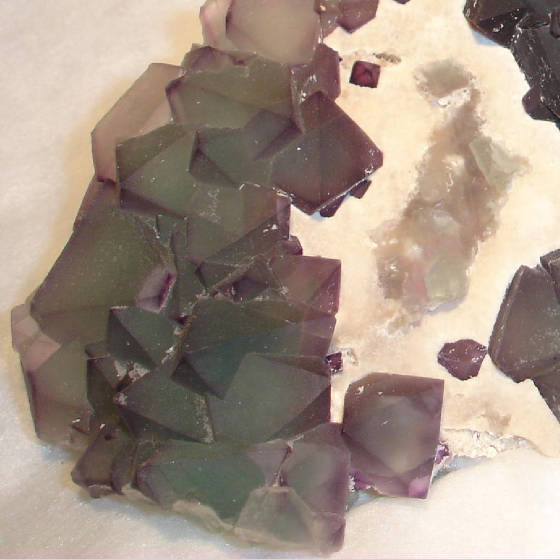 Fluorite Plate close up left side view
(619) 668-9188
P.O. Box 139 Spring Valley,CA. 91976
*FREE SHIPPING ON MINERAL ORDERS OF $150.00 OR MORE*
U.S.A. Only

Thank you for visiting, come back again soon.
All pictures on this web site are the property of Darwin Warriner aka Mineralman and can not be used with out prior permission.
Contact me in writing if you wish to copy or use any pictures on this web site.