SHOW SCHEDULE 2009
Tucson Gem and Mineral Show
I will be meeting with miners from over a dozen different countries and hand picking specimens to be offered on this site.
San Diego County Fair
Fluorescent Mineral Lecture Series
Dates & Times :
June 14 2009 1PM and 1:40PM
June 21 2009 1:45PM and 2:30PM
I will be in the "Turf Club Room". Signs will be posted and if you are unsure just ask at the Gem and Mineral Exhibit information desk for directions or check in the fair's program guide for a map.
San Diego Lapidary Society Show
at the Rancho Bernardo Winery
TBA
Mineral Sales and fluorescent exhibits
56th Annual Shasta Gem and Mineral Society Show
Shasta District Fairgrounds Anderson, CA
Mineral sales and fluorescents
FIELD TRIPS
Join us for a late afternoon / evening and enjoy a wonderful collecting adventure at the Princess Pat Mine. We will be digging for garnets before the sun sets. Then the real fun begins as we collect multi-color fluorescent minerals. Send me an e mail for time, directions and meeting place information. This trip is open to all those who wish to collect and meet new friends.
Sign up now for the next trip! Tentatively scheduled for late March 2009
Currently I am negotiating with mine owners for access to other collecting opportunities. I'll keep you posted.
2006 Booth Rancho Bernardo Winery Show
September 6th and 7th 2008: Bernardo Winery
Join us again this year at the Rancho Bernardo Winery as the San Diego Lapidary Society hosts a MINERAL, GEM and JEWELRY show at this wonderful location. This is a picturesque location with a rustic, casual atmosphere and space for over 75 dealers. With craft shops, restaurant, food booths, live music and a on site glass blower/fabricator as well as a tasting room for the many varieties of wine offered by the winery there is fun to be had here for everyone.
NEW THIS YEAR!!
Fluorescent minerals and lamps will be on display and available for purchase.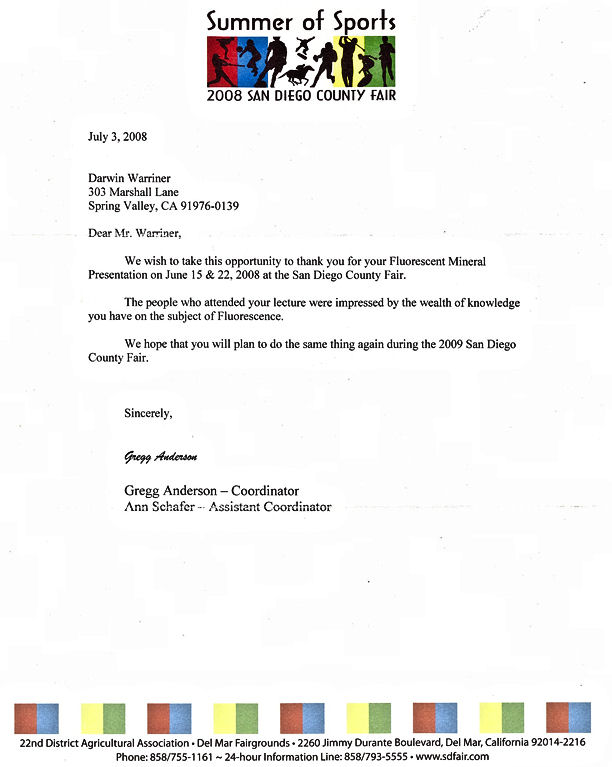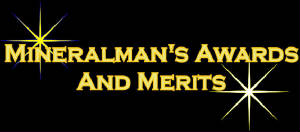 San Diego County Fair Gem and Mineral Competition 2004
Awarded in 2004 for the "Best Case" of minerals from world wide locations.
These minerals represented a small fraction of my personal collection.