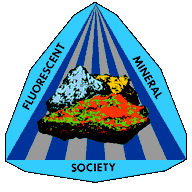 I have hundreds of fluorescent minerals available from famous locations around the world. If you are looking for a particular specimen, E-mail me and I will send you a list and a photo.
In addition to the single specimens shown here, I will soon be offering boxed sets of beginner mineral collections of Longwave U.V. and Shortwave U.V.
Longwave collections are perfect for the novice collector and a great way to learn about the world of fluorescent minerals.
All reasonable offers will be considered.
LONGWAVE FLUORESCENT MINERALS
Collecting Longwave specimens is an excellent way to begin or expand your fluorescent collection. Great specimens are available for novice to advanced collectors. Longwave UV lights are inexpensive and easy to acquire.
See our UV lamp page for more information.
LONGWAVE

MINI-FLASHLIGHT



9 BULB LED LONGWAVE MINIFLASHLIGHT

LONGWAVE mini flashlight is an ideal companion while searching for fluorescent minerals. Powerful LED light reveals true longwave fluorescence at 385nm as shown in the photograph. Specimens are ,clockwise from top, Fluorite, Sodalite, Meionite and Opal. Minerals were photographed at 12" from the light. Longwave flashlight is ideal for locating bacteria, body fluids and other pathogens that may lurk unseen in your home or that hotel room you just rented! Perfect for identifying real versus counterfeit currency and most states have hidden emblems on their driver licenses that are only visible under long wave UV light. UV flashlight is an excellent tool for CSI and police investigations. Constructed of super sturdy aircraft grade aluminum for high durability and long service life. Unit comes in its own nylon case which has a belt loop and batteries (3-AAA) are included.

Order yours today!

Item code: minilw 1001 $34.95

Professional Geologist's

Longwave Flashlight



51 BULB LED PROFESSIONAL GEOLOGIST LONGWAVE FLASHLIGHT

Same specifics as the mini flashlight described above.

Except this is the much larger more powerful professional Geologist version. Rugged longwave flashlight is perfect for professional use or fluorescent collecting. Built to stand up to years of field use. Comes complete with nylon case with brass riveted belt loop and batteries.

Item code: pguv 1001 $74.95
RUBY
I have completed cleaning the mine rough Ruby specimens. This is a proprietary process and takes about two weeks per specimen. However, the results are outstanding and worth the effort. These highly desirable specimens come from Mysore, Karnataka, India. Noted as being the source for the best fluorescent Corundum (Ruby) in the world. This rare location is described in "Fluorescence, Gems and Minerals Under Ultraviolet Light" by Manuel Robbins. These Rubies fluoresce a deep cherry red when exposed to longwave UV light. No collection is complete without one of these fantastic specimens. Beautiful under natural light, incredible under LW-UV. Every specimen has numerous crystals covering all sides.
RUBY

See text at top.

HUNDREDS of rubies on this VERY LARGE cabinet size specimen. Some of them near gem grade.

2" x 4" x 5"

Item code: ruby1014 $ 100.00 SOLD
RUBY

See text at top.

VERY LARGE cabinet size. Ruby crystal growth on this specimen is so complete that there is almost no matrix! A spectacular center piece specimen.

2" x 3" x 5"

Item code: ruby1016 $ 100.00
RUBY
This is the massive form of Ruby in a matrix of green non fluorescent Zoisite. Massive Ruby is a brillant cherry red under longwave UV light. Specimens are from the Mundarara Mine, Longido, Tanzania, Africa
RUBY

See text at top.

Small cabinet size. This specimen has a little white fluorescent Feldspar.

1" x 1.5" x 2"

Item code: rubym1005 $ 15.00
RUBY

See text at top.

Small cabinet size. This specimen has a nice watermellon look to it.

1" x 1" x 2"

Item code: rubym1006 $ 15.00
RUBY

See text at top.

Small cabinet size sits up nice in a display. This specimen has fluorescent cream colored Aragonite (phosphorescent) on one side and several thin veins of white fluorescent feldspar in the matrix.

1.25" x 1.75" x 2.25"

Item code: rubym1007 $ 25.00
RUBY

See text at top.

Small cabinet size.This specimen has a nice watermellon look to it.

1.25" x 1" x 2"

Item code: rubym1008 $ 15.00
Selenite

Visually attractive golden Selenite crystalline specimen is fluorescent under both long and short wave UV and phosphorescent.

From the Mina Pisco, Region Ica, Peru

Large cabinet specimen is

2.25" x 2.9" x 4"

Item code: sel1005 $50.00
Selenite

Visually attractive golden Selenite is fluorescent under both long and short wave UV and phosphorescent.

From the Mina Pisco, Region Ica, Peru

Small cabinet specimen is

2" x 2" x 2.5"

Item code: sel1006 $25.00
Selenite

Visually attractive golden Selenite is fluorescent under both long and short wave UV and phosphorescent.

From the Mina Pisco, Region Ica, Peru

Small cabinet specimen is

1.3" x 1.8" x 2.5"

Item code: sel1007 $25.00
SODALITE

Green crystals of Sodalite are more fine grained in this specimen. Tenebrescent SODALITE changes to purple after exposure to shortwave illumination and holds the purple/lilac color more than any other specimen I've seen in a long time then fades back to its natural color again ad infinitum.

Vibrant orange under longwave and shortwave UV . Trace amounts of fluorescent green Ussingite and fluorescent white Chkalovite are also present and visible under shortwave UV. From Tunuliarfik, Ilimaussaq complex, Greenland.

Specimen is

1 1/8" x 1 3/4" x 4 1/2"

Item Code: soda1014 $30.00