Welcome
to the fascinating world of minerals, fossils and rare items. A unique and vast collection awaits your exploration. Whether you are new to the world of rock collecting or desire that rare VIVIANITE from Bolivia or an opalized Ammonite from Madagascar, you will find what you need.
Stroll through the various pages and you may find that special item that calls to you. If you do, feel confident that with mineralmans 100% satisfaction guarantee you will have the time to fully inspect your purchase.
So, come and explore the findings of a lifetime of dedication to discovering the Earth's secrets with the Original Mineralman!
NEWS
HACKMANITE Summer Sale!
Hackmanite specimens that are approximately 1.5" x1.5" x 1.5" .
Hackmanite is from Sar-e-Sang, Kokcha Valley, Badakhstan, Afghanistan.
No pictures available.
I will pick out the specimen(s) for you. Be assured you will get quality Hackmanite specimens.
Sale on now till the end of December or when supplies are depleted.
Limit of three (3) per customer.
Item code: hacksale $15.00 each
Go to the LONGWAVE UV "A-M" page and scroll down.
The energy crisis hurts all of US. So, I have slashed prices on many minerals. FMS members, contact me first for any additional discounts that may apply.
Until further notice, there will be FREE SHIPPING on
"WAY-TOO-COOL" UV lamps purchased from this site and shipped to a US address. "WAY-TOO-COOL" has increased the price of their lamps effective November 1 2009. I will hold to the old price till February 1 2010, so order now and SAVE $$ !
NEW PAGE of extra large fluorescent specimens is under construction and will soon be added.
Click on a picture to be redirected to that page.
NEW ADDITIONS from the
White Elephant Mine, Mojave Desert, CA.
I am still in the process of working this unique deposit so stay tuned for more unique discoveries. As of this date we can say there is Red to Yellow CALCITE, Pink - Lavender -Purple SMITHSONITE, Cream to White (and phosphorescent) ARAGONITE, Blue /White HYDROZINCITE, bright White DIOPSIDE, Orange CALICHE and Green OPAL.
I used an 18watt "WAY-TOO-COOL" lamp to illuminate these specimens.
ORDER YOUR SPECIMEN NOW!
To reserve your specimen contact me for more details on pricing, color combinations and sizes.
| | |
| --- | --- |
| | New Additions |
| Watch for our specials on UV lamps! | |
The Fluorescent Mineral Society is an international organization of professional mineralogists, gemologists, amateur collectors, and others who study and collect fluorescent minerals. The society was founded in 1971 and incorporated in 1993.

Join the FMS and meet other fluorescent mineral collectors, find out what's happening in your area, get the UVWaves - a bi-monthly society newsletter, and more....

Go to the "links" page and click on for more info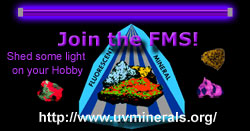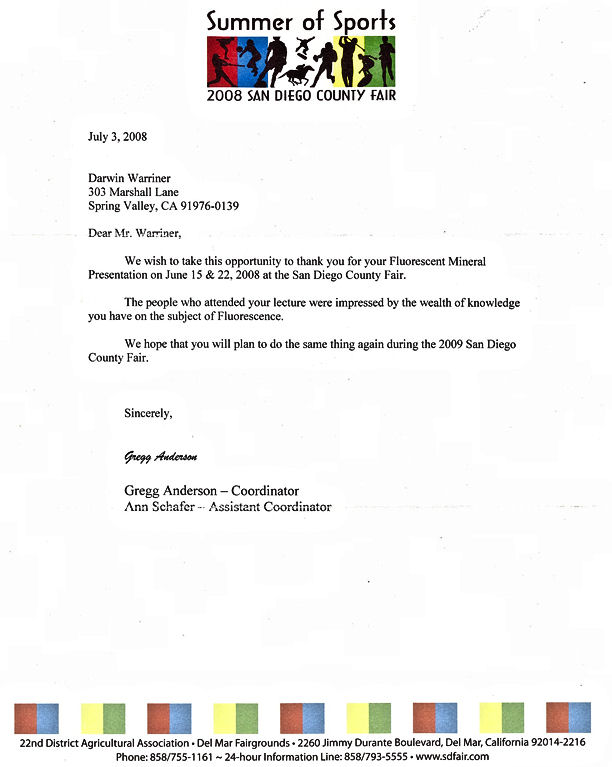 Sign up for a FREE newsletter by joining our mailing list. Subscribers enjoy generous discounts, priority notifications, special offers and access to professionals in the Earth Sciences. The Original Mineralman respects your privacy and does not supply your information to any other service. We respect and follow anti-spam policies. Outstanding friendly service is priority one. Join today, you'll be glad you did!

Visit our EBAY auction as the "MINERALMANCOLLECTION" New items are offered monthly.